07-19-2011, 06:13 PM
Senior Member

Motor Mouth

Join Date: May 2006

Name: Nick Baranov

Location: Hollywood

Year: 1973

Model: El Camino SS

Region: 18(CA)

NECOA #: 7501

Posts: 153
73 Elco with IROC Wheels that dont come off!!!
---
Hey guys,
I cant actually believe I'm having this problem, but judging by a bit of research, me and my mechanic might have missed a crucial step or two in this little process.
We installed IROC 2 fronts and 2 rears on my el camino, all stock suspension and axles, no modified studs, or anything else for that matter. just put rubber on em, and bolted em to the car.
So now its time to change my brake pads, and the front wheels dont come off. Due to the factory short wheel studs, the wheel nuts are screwed way deep in the wheel cavity, and nothing seems to be able to get a good grasp on them...
how in the world do i fix this problem, because sooner or later my brakes are gona go to sh*t and im just gonna do more damage in the long run...
Thanks for all the help in advance, i appreciate it!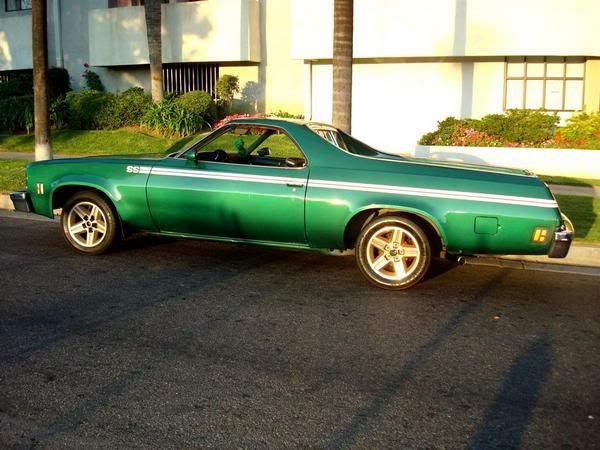 __________________
1973[SS]462ci
07-20-2011, 07:12 PM
Senior Member

Motor Mouth

Join Date: Nov 2008

Location: 2(CT,MA,ME,NH,RI,VT)

Year: 1971

Model: El Camino

Region: 2 (CT,MA,ME,NH,RI,VT)

NECOA #: 12788

Posts: 137
---
thin wall sockets?
how did your mechanic get em on in the first place? maybe you should give him a call or maybe a plasma torch? ya that will get em off!
07-22-2011, 11:02 AM
Senior Member

Master Wrench

Join Date: Mar 2009

Location: There

Year: 1978

Model: El Camino

Region: 9 (IN,KY,MI)

NECOA #: 13817

Posts: 2,033
---
Hey. Your El Camino looks great with those wheels. Try a thin wall socket. But what ever you do Don`t use anything that will mess up the rims. Doug
__________________
78 El camino
79 Malibu (sold)
81 Malibu
07-22-2011, 02:02 PM
Senior Member

Master Wrench

Join Date: Apr 2010

Year: 1980

Model: El Camino

Region: 13(TX)

NECOA #: 16399

Posts: 643
---
That happened to me the lugs nuts dug into the rim tried everthing to get them out .I had the factory acorn nuts temp. Till I bought correct ones ,anyway I only had 2 that dug in I had to drill the lugs thru .Discount tires got me the standard lug nuts chrome and cheaper than gm dealer.
01-13-2012, 03:42 PM
Junior Member

Gear Head

Join Date: Jan 2012

Name: Keith Bowling

Year: 1967

Model: El Camino SS

Region: 9 (IN,KY,MI)

NECOA #: 20972

Posts: 12
---
i had this problem on a really hideous set of wheels that were on my 04 silverado when i bought it, i ended up taking a trip down to my local advance auto back when they sold autovalue or whatever crap brand they had at the time (though im really a big fan of the new gear wrench line they are carrying) and bought 6(all they had) of the size socket i needed, then the next size down in standard. i took my bench grinder and cut the sides of the socket down till i made a super thin, ready to crack socket, broke two, but over all they worked, the smaller sockets are great too if you absouluetly cant do anything else u can beat them on to the lug nut with a 3lb hammer and sacrafice the socket. works though. and albeit ugly, advance does cary two different types of slim lug nuts, one that is just reduced diameter acorn style, and the other that looks basically like a socket on one end and threads on the other.(my favorite)
01-13-2012, 06:09 PM
Junior Member

Twisted Wrench

Join Date: May 2011

Year: 1985

Model: El Camino

Region: 3 (DE,NJ,PA)

NECOA #: 19339

Posts: 29
---
Not sure if this would work, but I used this method to take off a set of wheel locks when I lost the key.
Figure out the approximate dimension of the lug nut and then go to Home Depot or Lowe's and get a small piece of pipe. I banged the pipe over the lug nut then I was able to use that to twist the lug nut off.

Bill
01-13-2012, 09:00 PM
Senior Member

Master Wrench

Join Date: Mar 2007

Location: 16(CO,MT,WY,UT)

Year: 1987

Model: Conquista

Region: 16(CO,MT,WY,UT)

NECOA #: 9322

Posts: 2,294
---
Using a stick or mig welder, and welding through the hole of a nut, weld another nut on top of the lug nuts.

Doug
__________________
85 El Camino 305, TH350, K&N, dual exhausts (Sold 2-21-09)
87 El Camino 305, 2004R, K&N, dual exhausts
1964-1/2 Mustang conv, 260 V8, dual exhausts
2003 Jaguar XJ8, 2000 Harley Road King
66 Austin-Healey BJ8
Lakewood, CO
Currently Active Users Viewing This Thread: 1

(0 members and 1 guests)
Posting Rules

You may post new threads

You may post replies

You may not post attachments

You may not edit your posts

---

HTML code is Off

---
All times are GMT -7. The time now is
12:14 AM
.
Powered by vBulletin® Version 3.8.7
Copyright ©2000 - 2017, vBulletin Solutions, Inc.
vBulletin Security provided by
vBSecurity v2.2.2 (Pro)
-
vBulletin Mods & Addons
Copyright © 2017 DragonByte Technologies Ltd.
Logos and trademarks on this site are property of their respective owners. Comments are property of their posters, the rest © 2001-2009 by
me
AutoGuide.com
Truck
European
Import
Domestic
Manufacturer