·
Deputy Director Region 6
Discussion Starter
•
#1
•
I was looking thru other forums & came across this thread & thought to post here for the guys looking for the Firewall to Radiator Core Braces. They are Very Hard to find !
I don't know exactly what they do BUT I have All the F41 Braces on my 84 & 87 & They Drive, Handle Great & Turn with NO Body roll !
Found out it was Tim (timo22)
So if you want a set send him a PM or Email
[email protected]
Here is Tim's Thread info
A fellow member wanted me to make a set of these braces for his wagon project. I
had previously sold him a factory set with the dogleg brace on the passenger side. He didn't really
like the way the crooked brace looked so he asked me to make a set. He was very pleased with the
new straight braces. They fit his car perfectly.
Although I can recall getting a set of these braces that both were straight, the past 3 or 4 sets I have found were the dogleg variety. My Malibu is in storage so I cannot check to see if there would be a clearance issue with air cleaner. I have run a string from where the hole in the cowl to the core support and it seems to clear a 14" air cleaner.
I have made 4 more sets of these braces. One set is for my car , but if anyone is interested, the other
3 are for sale. These braces are made from new tubing and are primed and painted black. The whole reason I made these was to get away from the bent passenger side. Right now , all of my sets are painted. If there is enough interest, I will be making more and can offer sets painted or bare.The tubing is 3/4" ERW .049 g.
These first sets will be 60.00 plus shipping. I have seen the factory MC bars go for more than that and I don't think they were refinished.
I include the welded stud and nut for the cowl side and you use the existing bolt on bolt on the core support side.
So, really the only loose prices are the nuts. When I sell any of my parts, I include the necessary fasteners for easy installation. What good is the part if when you get it, you have to locate the fasteners? Thanks for your input..timo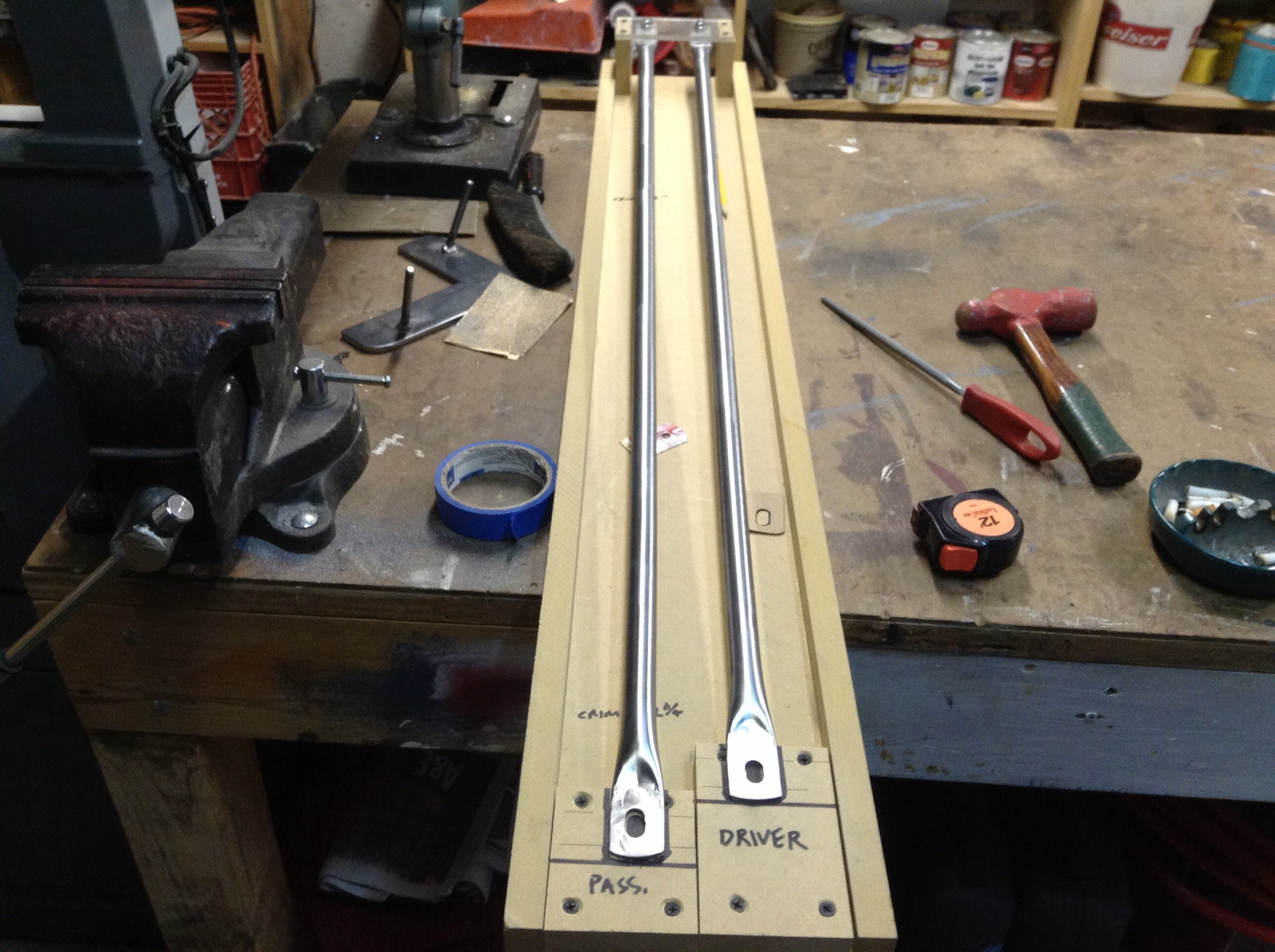 Took me Years to find the 2 sets I have !
My 84 & 87