There seems to be a lot more interest regarding
Choo Choo Customs
El Caminos these days, and subsequently more questions from members. I figured I would start a thread and list all of the information I have gathered (with the help of others) over the years regarding Choo Choo El Caminos. This is just a list of information that I have gathered over the years via online research, other enthusiasts, and former Choo Choo Customs employees. If I have made a mistake with any of the information and another member knows something more accurate, please feel free to correct me for the sake of bettering everyone's knowledge on this subject. Anyone else please feel free to add content to this thread that I have not listed, or that you feel is substantial.
Choo Choo Customs was a vehicle customization/conversion company based out of Chattanooga , TN that began building conversion vans in 1975. Choo Choo Customs first started converting El Caminos into Designer Series SS models in 1983. Some enthusiasts liken the Choo Choo El Camino to other conversion vehicles manufactured by companies such as Mark III or Southern Comfort, but in actuality the Choo Choo converted El Camino was more similar to the SLP Camaro SS and Trans Am WS6 of the 1990's and 2000's. I say this because the Choo Choo El Camino was NOT a dealer option, nor could you bring your own El Camino to Choo Choo to be converted into an SS. Chevrolet contracted with Choo Choo to build these El Caminos as the 'SS' version; similar to how SLP converted V8 equipped Camaros and Trans Ams into SS's and WS6's. No, Choo Choo did not make any performance modifications to the El Caminos like SLP made to the Camaro and Trans Am, but my point is that both companies were contracted by GM to create an "SS" version of each vehicle.
Up until 1983, Chevrolet offered their own Super Sport version of the El Camino (RPO code Z15). The Z15 Super Sport maintained the stock El Camino nose, and received a two-tone paint job, large door and tailgate Super Sport decals, black quarter window trim, a front air dam, and a dashboard emblem. However, in 1984 the RPO Z15 remained an option, but all exterior Super Sport decals were removed by Chevrolet. The name of the Z15 option was also changed from 'Super Sport' to 'SS Décor package.' I'm assuming this was done so that the Z15 package did not compete with the Choo Choo Customs SS option. Between 1983 and 1987 approximately 2,200 (educated estimate) El Caminos were converted into the Designer Series SS by Choo Choo Customs.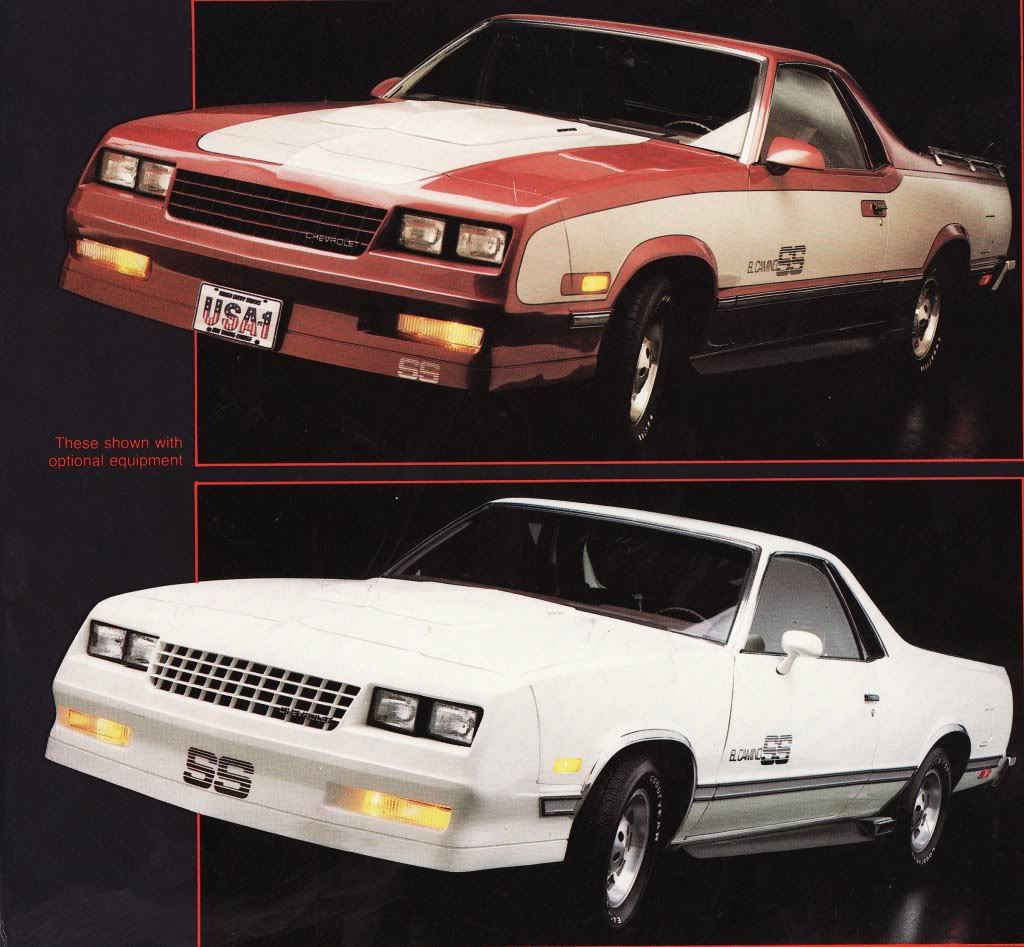 All Choo Choo Customs El Caminos received a driver's door jam Re-Certification decal which listed that particular vehicle's sequential build number, year code, and the last six numbers of the vehicles VIN. Note: A reproduction Re-Certification decal is offered for sale online; it is a poor re-make of the original, so when buying an El Camino that is represented as a real Choo Choo, inspect the decal thoroughly to make sure it is original.
1983 was the year with the fewest Choo Choo El Caminos produced (approximately 22 units or less). Choo Choo Customs continued to sell their El Camino conversion parts for several years after El Camino production ended. Choo Choo went out of business in the mid 2000s. At that time, Honest Charley's Speed Shop (also based out of Chattanooga , TN ) assumed a portion of Choo Choo's employees and El Camino parts, which they still sell today. The original polyurethane Choo Choo nose is no longer produced, but Honest Charley's kept the original mold and continues to produce the nose out of fiberglass.
The following GM RPO options were required on an El Camino in order to be converted into a Choo Choo SS:
-ZJ7 rally wheels w/ white lettered tires
-D35 Sport Mirrors
-V08 Heavy-Duty Cooling
The Choo Choo El Camino SS package included the following features:
-Special Aerodynamic Polyurethane Front Nose
-Special Machine Turned Aluminum Side Moldings (1983 – 1985 only)
-SS Door, Nose, and Tailgate Decals
-Designer Series Door Handle Inserts
-Choo Choo Customs Train Emblem on Dashboard
The following were options offered by Choo Choo that could be ordered on the SS (availability varies by year):
-Choo Choo Customs Steering Wheel
-15x7 Western Star Aluminum Wheels
-Glass Moon Roof
-Custom Two-Tone Paint with Hand Painted Accent Striping (1985 – 1987 only)
-Special Cowl Induction Style Hood
-Shielded Sporty Side Pipes
-Roof Airfoil Wing (1983 only)
SEE PAGE 2