I needed to relocate my add-on Edelbrock fuel filter due to the fact that it may eventually cause fuel flow problems or vapor lock,
since it was installed on the suction side -
before the fuel pump
.
I wanted to:
(1) Have unobstructed space for it away from the belts and headers.
(2) Have easy access for future filter replacement.
(3) Eliminate rubber fuel hose and cheap worm gear clamps
.
My Edelbrock 600 carb has an "L" shaped banjo fuel inlet that is a 90* turn - down and forward. I had a Russell braided stainless fuel line installed here, from the hose barb to the fuel pump, but it began to leak at both ends - and tightening stripped the clamps.
An expensive Edelbrock or similar -6AN direct bolt in fuel filter can be added here for most simple SBC applications - but
my Cali smog motor has far too many hoses & fittings in the way for this.
I found a fuel filter ($8 A-zone) for a V6 TBI that has female fittings on each end, and is a common filter for many GM applications. (El Camino) Apparently hotrod builders have been using these for the last ten years.
I purchased a 30" ($7) and a 18" ($6) 3/8" double flared steel brake line from NAPA.
I also found online a Russell -6AN male to 5/8-18 female tube nut adapter fitting to connect to the fuel line.(Amazon $14!)
While waiting for the parts I to arrive, I made my first ever attempt at bending the steel line after making a pattern from a coat hanger, and it actually worked first try.
I needed to make a very tight 95* turn just out of the fuel pump, to avoid the lower radiator hose.
I cut and double flared the end, and that fit well.
At the top, I needed to make a 45* turn from the carb to miss the heater hose, then go up and over my alternator, and down toward the fuel pump.
One problem not anticipated was the 16mm flare nut, and the special "GM flare" with a Viton O-ring that seals inside the filter.
After searching for days for 16mm tube nuts, and finding that this special "GM flare" cannot be recreated without a $300 hydraulic tubing flaring tool, I decided to go another (easier) route. After a bit of research, I found that there are fuel line repair sections now available for sale that include the 16mm fittings and the GM filter flare with the o-ring on one end. Yay.
For this first attempt I opted for economy, and just purchased (2) 4" sections of fuel line repair tube ($4 each Amazon) - and some 3/8" brass compression fittings, (3 for $5 Amazon) measured, cut, & bent the line to fit, and bolted it all together.
This approach was great in theory, and eventually it worked, but still, a poor decision. Upon testing, I had fuel leaks at six of the eight connections! Yikes.
I ended up making each connection extremely tight - to the point I thought the brass would break - in order to get all connections to stop leaking fuel.
To also guard against fatigue from vibration, I hand cut, and shaped, a stainless steel bracket with a rubber liner, to secure my fuel filter to the lower alternator bolt.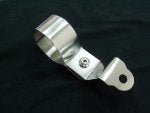 After much thought about the possibility leaks, I proceeded to do a second iteration - one that eliminates the compression fittings.
This is what I should have done from the onset.
Compression fittings are great for repair of a rusted fuel line, but to me, fewer connections lessens the chance of a failure or fuel leak.
By using two 18" repair lines, (Dorman 800 -153 @ $14.99 each - actually made in Canada) I cut and double flared the other end that connects to the carb & fuel pump with the 5/8-18 flare nut. Bending this line to fit was a challenge, but after carefully measuring and test fitting each bend, it fit first try. I had to start the lower section from the filter, and cut the excess at just the right point to fit into the fuel pump.
This made just (4) connections, instead of eight with an easier filter change.
At this time I have my heater hose fitting capped off, as a heater core replacement is next on the agenda.
Later I'll add a heavier steel K&N fuel filter which is a better filter than the cheap flexible Chinese one I used for mock up.
Overall, this project was a 4 day challenge, but had a satisfying result.
I consider myself lucky that I did not waste any material by making a wrong turn while bending the tubing.
Yes ... I did polish the steel - what can I say ? - I just can't help myself.
The tools I used for this project are a previously unused 30 year old flaring tool, and a new Harbor Freight Tubing Cutter and Handheld Bender. I also bought a Double Flaring Tool from HF - but it broke the first time I tightened it down on the tubing.
I just can't say enough about the quality of Chinese steel.