·
Deputy Director Region 8
Discussion Starter
·
#1
·
I have seen a bunch of members here that have never torn down a motor and rebuild it back to life,, so I am starting a 350 tear down and then I will put her back together, twice, cause thats how we roll in Ohio!!
oke:Just for u DDD!!! This motor is the same as a 283 to the 400 sb chevy,, the motor; a 1996 350, 5.7 out of a 96 Surburan 2 wd 1500,, the engine has 255,000 and the owner has had Amsoil synthetic oils through out the drive line and we will see the benifit of using synthetic oils,, this motor was the easiest motor I ever torn down,, the cylinder walls have no taper that I can feel, I will dial bore gauge this puppy! The crank looks ok but may need reground,, I will post pics of using mics tom check things out,, I did pop the pistons out w/o any pics,, DOH! I will pic the crank removal,, so ride along and if someone can tell me how to do videos from my camera I will try that as well!! Just down load tp photo bucket?? Sp here we go,,, the motor;
the lifter valley,, I was surprised about the sludge build up but it was like a pudding,,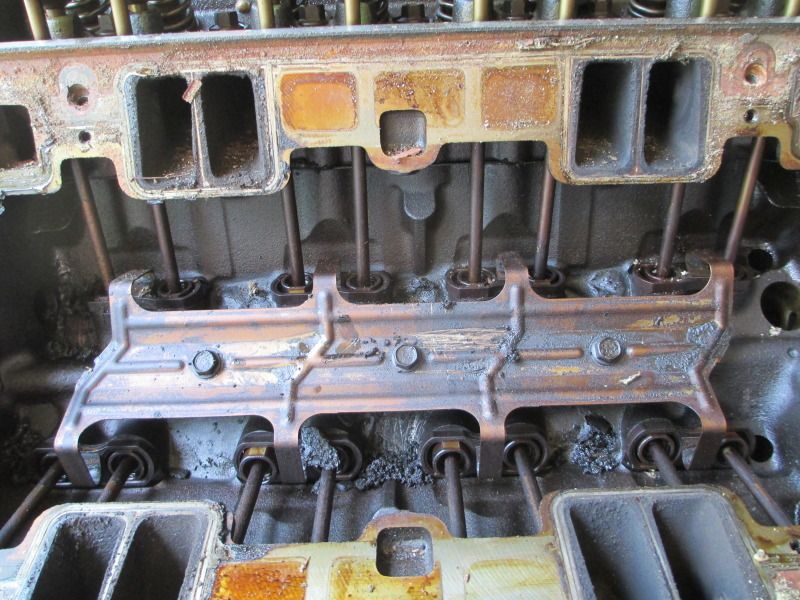 and the exhaust ports,, do you know is there enough iron to do porting on these late model heads??