·
Senior Contributing Member
I have a few Jeep Steering Shafts for sale. $60 each Shipped USPS (lower 48 states).
These shafts make a great upgrade over the old rag joint setup.
Tightens up the steering and gives more clearance along with a cleaner look.
These are compressed, cleaned, painted, greased and ready to install.
I spend a lot of time getting them prepped and make sure the finished product is as good as they can be. Mine are separated, cleaned, sanded and painted along with little extras like spreading them so they slide right on, cleaning the bolt threads, greasing them, etc....
When you get one from me it is 100% ready to install.
Send me a PM if your interested in one
.
Video of the installation of these shafts.
This in not my video but its well done.
http://www.tuneyfish.com/video_player.php?vid=220
There seems to be some conflicting opinions on whether the "D" shaped part of the column needs to be notched or not.
Here is what I discovered about the upper "D" shaped section.
1st there are 2 different types of shafts, I assume it has to do with the year or model.
The set on the right has Cast Ends and the set on the left are Bent Steel. Both sets work exactly the same. The ones with the Cast Ends have a smaller diameter where the rubber isolator is. This could prove beneficial for those with large primary tube headers.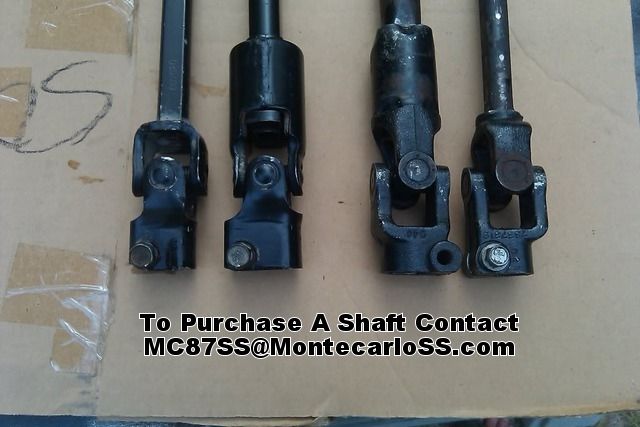 The "Old Style" has a slightly different shape opening than the "New Style" and they are solid cast in lieu of bent metal. The "Old Style" are a little harder to spread open due to them being solid cast. Any "Old Style" shaft i sell will be spread and clearanced before shipping. Although there is nothing wrong with these most prefer the new style so i will save any old style shafts until the end and notify you that's what you are buying.
The upper "D" shaft on our cars have a "Top" & "Bottom". These have 2 flats on the sides but the rounded sides are different also. The "Top" is rounded but the "Bottom" has a flat spot for the bolt.
I originally thought the shafts did not require a notch if you align the bolt with the flat spot on the top section. However after a few tests I realized a notch is required. The notch is also a good idea to prevent the coupling from sliding down off the shaft. If you notch the flat side, a smaller grove is required.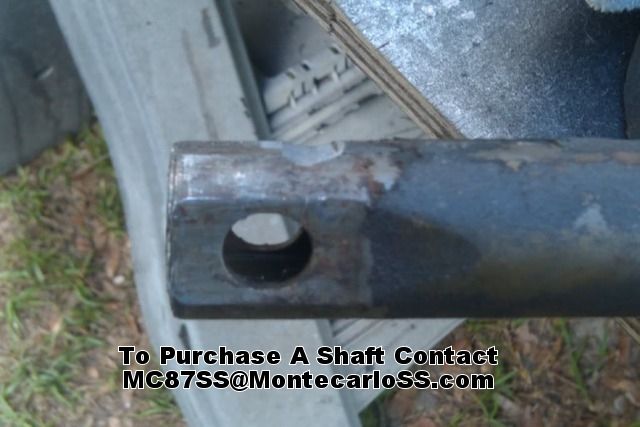 Hopefully this clears up the mystery and helps with the install.
Here are some testimonials:
Hey Ken, got the shaft yesterday. Packing was great and the assembly was all clean and painted black. So pretty!!! I hate to put it on the car now. I think i'll let it hang in the shed and accumulate some funk before i install it. Thank the the opportunity brutha!!:nanawrench::You_Rock:
Got mine within a couple of days. Cleaned and painted, and it was excellently packed. Can't wait to put it on. :nanawrench:
Ken, Thanks again setting me up with the Jeep Steering Shaft. I hadnt any luck finding one in the Bay Area (Calif). Im sure the shaft allowed me to beat my buddy(73 Corvette) at our Autocross events. Terry:yell: