The NECOA imprinted windshield sun shades are here, my friends. And, through the actions of our Executive Committee (EC), we significantly bested the target price of $20.00 plus shipping. Earlier, the EC voted to subsidize part of the shipping costs, resulting in a total cost, shipping included, of $20.00 per sun shade! Without the EC's help on shipping and their enabling of an expanded order (250), the cost would have been over $30.00 per shade for these custom printed shades, thus negating the entire sun shade project.
(The Executive Committee is made up of rtatwk, Sharp71, Vicky Wilson, John Harris, quintonsdusty, El bandido, acauth1, & kenrogers1)
These are the accordion, fold-up, type shades. Each sun shade is approximately 22 X 58 inches, but can easily trimmed or folded to fit your specific year model. The outward facing surface is bright white, with our NECOA logo and the slogan "Interesting People Drive Interesting Cars" printed together, centered and approximately 16 X 36 inches in size. You can look at the image below to see exactly what the imprinted area looks like. These shades will provide outstanding advertising for our "brand" - the NECOA at elcaminocentral.com, shouting out our name and website for all to see whether our El Caminos are attended to or not. No more missed opportunities to get our information out to non-affiliated Elky owners!
Now for the business part:
Please send your PayPAL payment of $20.00 to
[email protected]
. PLEASE indicate the type of money transfer as a GIFT, otherwise we will be charged a percentage of the funds you send.
You must include your complete name and mailing address
. If you need to send a check, mail that to Ken Rogers, 2005 Running Brook Drive, Joshua, Texas, 76058.
You must include your complete name and mailing address
.
​
I will mail their shades out just as soon as I receive the order!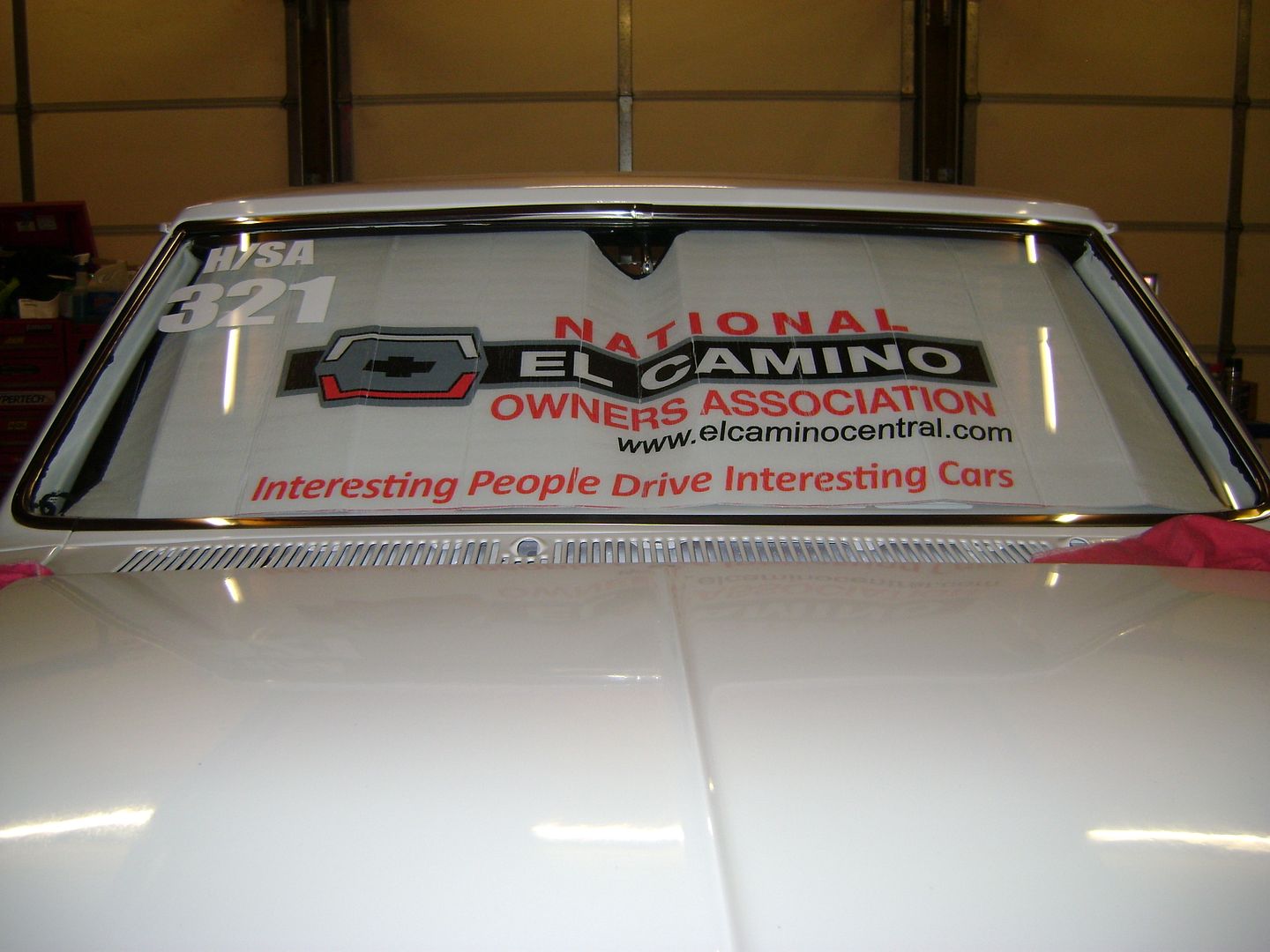 Image stolen from Hand Over Fist post!
For information about purchasing NECOA Branded Magnetic plates and 60th Anniversary branded banners and decals, please go to:
http://www.elcaminocentral.com/showthread.php?t=227242