Discussion Starter
•
#1
•
I've had my big Boss 305 20" rims on Carlos for years, but now that I plan to do more racing than just looking cute, I'm considering trading my son for his 15" stock rally wheels off of his 82 Elky. I really hate to lose the "flash factor" from my 20"s, but I like the idea of being able to do a little hot rodding without having to worry about shredding my 20"s apart.
What do you guys and gals think? Stay with the pretty, don't do burn outs, or go with the plain Jane 15"s and smoke 'em?
Here's how the 15"s look.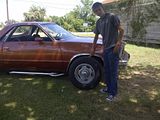 Just your plain stock wheels on real good rubber--215/75/15.
I plan on keeping the 20"s just for shows (probably).