Discussion Starter
·
#1
·
My temperature gauge stopped working recently, so I replaced what I THOUGHT was the temp sensor. It's on top of my thermostat housing. It didn't make any difference-still no working temp gauge.
So, today I bought a new temperature gauge, and as I was following the wire from the top of my thermostat, I happened to notice another brass looking bolt with yet another sensor attached near my driver side headers-on the block. It had the same end as the NEW gauge I just bought.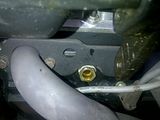 I got it figured out, and Jim connected the new gauge (sensor end) into a new fitting in the side of my block, and voila, my new temp gauge works just fine!
My question is...what the heck is that other thing plugged in to the top of my thermostat housing? Also, my original dash temp gauge has never worked, I've only had an after market one since I've owned the car. :dontknow: